Nestled in the heart of South East Asia, Thailand is the perfect destination for bike exploration. From the northern mountains to the southern beaches, cycle touring Thailand offers a diversity of terrain and a host of unique experiences. Ancient relics, dynamic cities, incredible landscapes, and welcoming smiles await you as you embark on a bicycle tour of this fascinating land.
Secluded beaches, fantastic food and friendly natives are particular highlights of a holiday in Thailand, but seeing the country by bike is an absolute must-do. How else could you experience slow, stress-free travel, mingle with the curious locals and really get amongst the vibrant and enigmatic culture? Participating in a Thailand bike tour brings a new dimension to sightseeing by catapulting you, the wide-eyed cyclist, into the thick of the action. Your experience and memories will be all the more vivid because of it, and, trust us, you'll be hooked!
Thailand is the perfect destination for the intrepid cyclist, the novice, the family, the couple or the solo adventurer. For those hungry for further epic adventures, cycle touring Thailand, Cambodia and Vietnam altogether, on one tour, is perhaps the holy trinity.
Read below for our best picks and get on yer bike!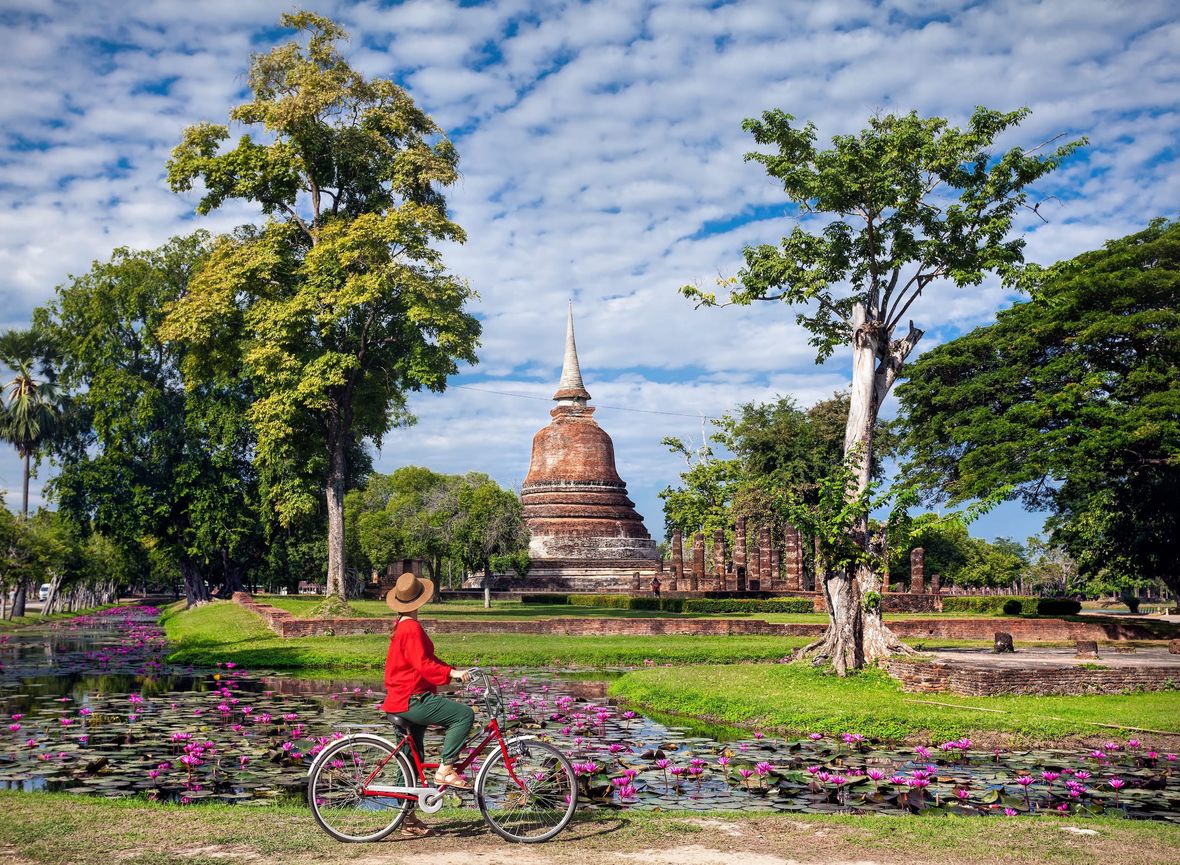 Northern Thailand

Chiang Mai to Chiang Rai
Explore the northern reaches of Thailand on an action-packed 4 day cycle tour from Chiang Mai to Chiang Rai. Try saying that quickly after you've had a few local brews!
Adventure over rural terrain on your trusty steed, following in the well-worn tracks of elephants, then find yourself quietly pedalling along winding country lanes with dramatic limestone karst scenery framing your view. Bike Thailand's canal paths, following the beautiful Mae Kok River as it twists and turns, cutting into the lush landscape. With such a variety of terrain, you'll be eagerly anticipating the next day's cycling adventure with renewed zeal.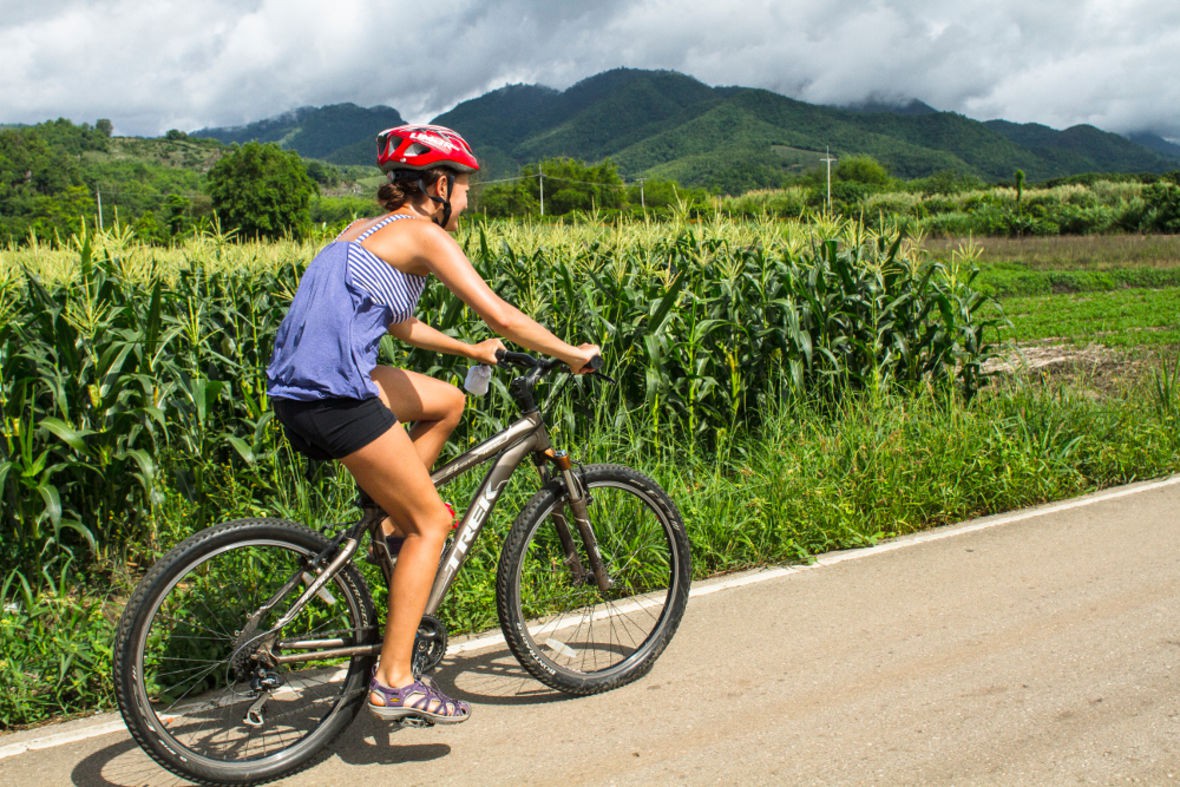 Each night you'll stay in the finest lodgings and enjoy waking up in spectacular settings. Highlights of the trip include touring the Chiang Dao cave system deep into the towering mountains with Buddha statues waiting patiently inside, visiting the multi-tiered Bua Thong waterfall, biking through rice paddy field scenery stretching as far as the eye can see, traveling with your bike on a long-tail boat ride, enjoying the natural hot springs after a sweaty cycle ride, interacting with the local hill tribe communities along the way with your guide giving insights and bridging the language barrier with good humor and ease.
Conclude the tour at the iconic White Temple in Chiang Rai on day 4 after experiencing a dynamic whirlwind tour of this enigmatic part of Thailand. This cycle tour has plenty of departure dates available and also offers specific women-only departure dates that are open to solo female travelers and those booking in a group.
More Related Tours:
Central Thailand

Central Thailand Explorer
If you're short on time but keen to see as much of the country as you possibly can in just a few days then jumping on a bicycle for this 4 day guided cycle tour of central Thailand is a sure fire winner!
Led by experienced and knowledgeable local guides you'll be bowled over by the incredible variety on this action packed tour. With easy biking and a support bus following the group at all times, this tour is also popular with families keen to dip their toe into a fun-filled cycle tour.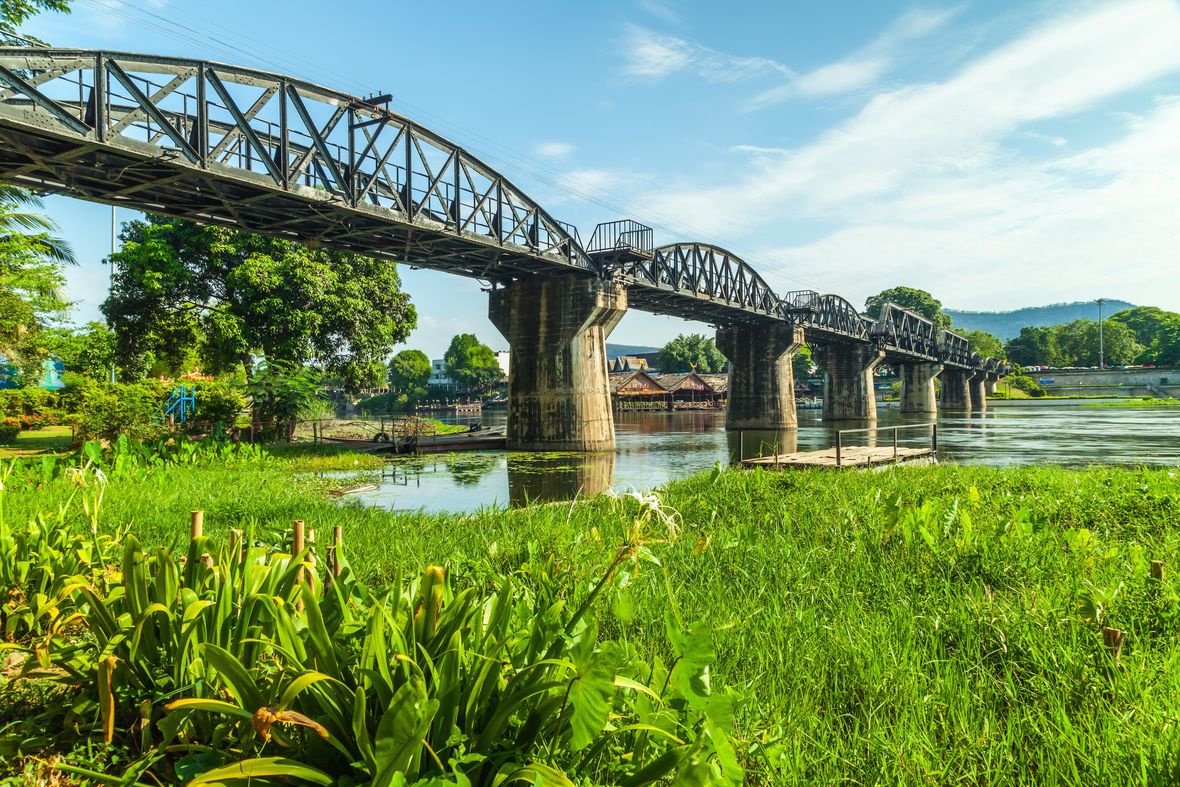 Highlights include visiting and haggling at Thailand's largest floating market, discovering ancient temples and historical sites such as the infamous Bridge over the River Kwai, and cycling through the sedate and lush landscapes of Thailand's central countryside. This tiny tour is big on experiences, which will appeal to culture vultures, historical buffs, natural lovers and anyone in between.
Families are sure to love the diversity of the busy itinerary keeping everybody occupied, entertained and full of smiles. This tour also has specific 'solo traveler' dates, particularly aimed at those traveling independently who wish to meet other like-minded cyclists on the tour. All in all, a super-inclusive and all round fantastic short cycle tour of Thailand, conveniently departing from and returning to Bangkok.
More Related Tours:
Southern Thailand

Immersive Thailand
Explore a superb stretch of the country from Bangkok to Phuket on a multi activity adventure set to win you over with the sheer diversity of the packed itinerary. Whilst the tour does, of course, involve cycling, this is kept to a minimum as time is reserved for plenty of other jollies. For example, on days 6 and 7 you'll venture into the tropical jungle for an intrepid 2 day hike, spending time well off the beaten track and staying in traditional bamboo huts in a local hill tribe village. This one-of-a-kind experience is not to be missed and simply delivers an exceptional multi-faceted tour for active adventurers.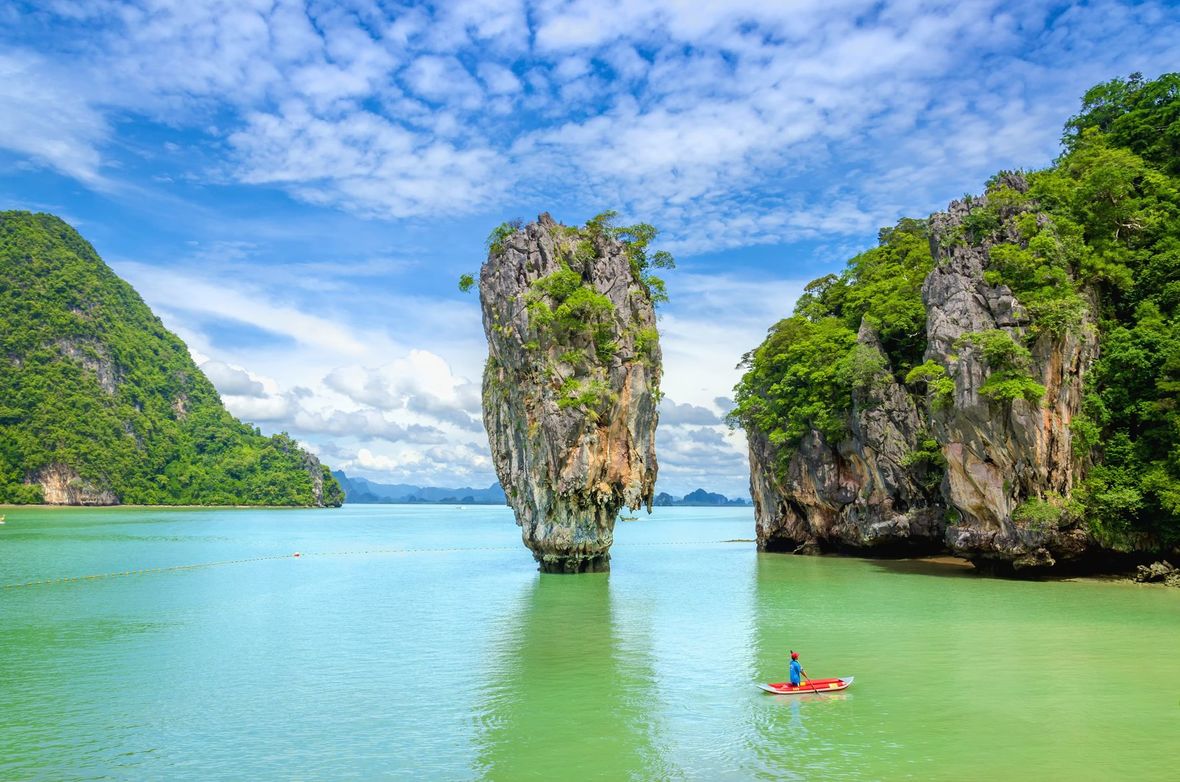 Traveling through the country as you head south, you'll move not only by bike, but via tuk-tuk, songthaew (open truck), overnight sleeper train, boat and your own two feet. This tour is about grassroots exploration and you'll certainly fit in an enormous amount of activities and collect unbeatable memories during the 13 day adventure.
Other highlights of the tour include visiting spectacular national parks and historic wartime sights; arriving in the UNESCO city of Ayutthaya via long tail motorboat; kayak, snorkel and speed-boating the exquisite seas of Phuket. This is a fascinating and captivating journey through the depths of Thailand.
More Related Tours:
Thailand and More

Cycle Indochina and Angkor
As if traveling by bike through Thailand weren't adventurous enough, how about adding on Vietnam and Cambodia too for a trio of delights? Roar Adventures have several tours covering this classic combination, whisking you off on multi-country explorations by bicycle. Why deliberate over which country to cycle tour in when you can bike them all!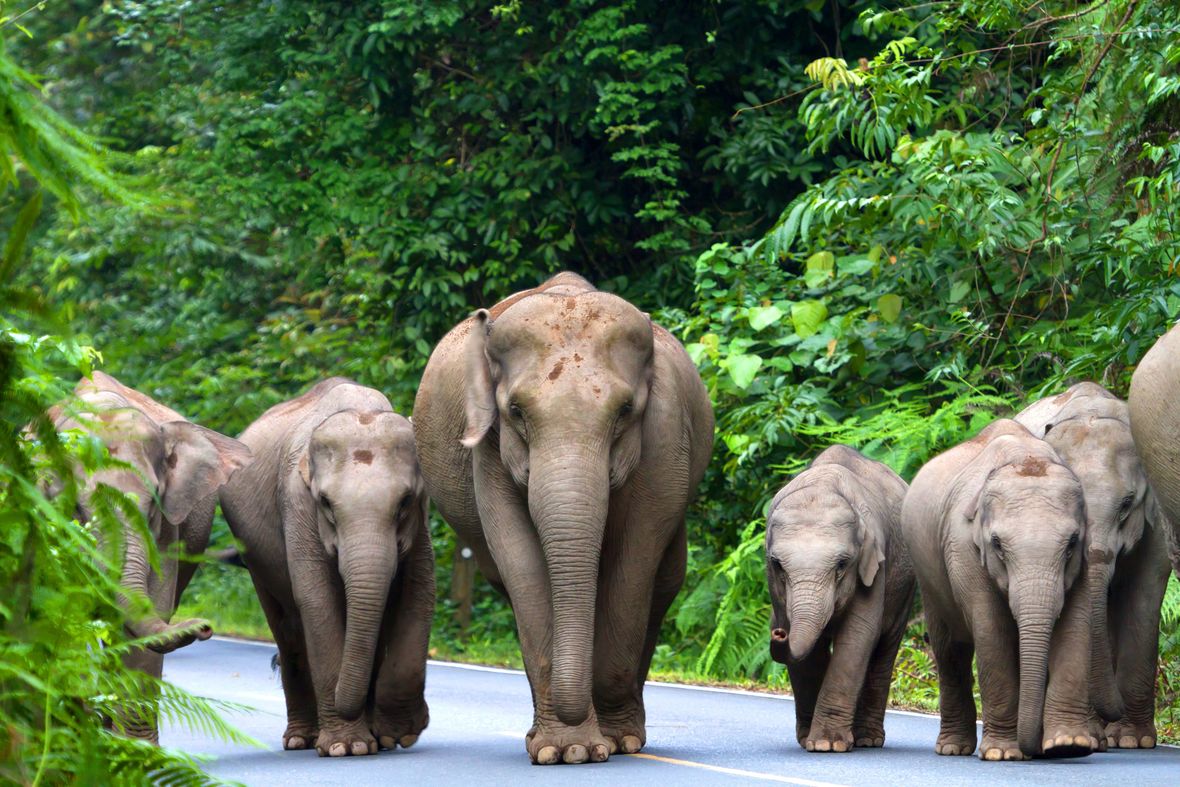 Generally taking place over at least two weeks, cycle touring Thailand, Cambodia and Vietnam gives a unique glimpse into three diverse yet connected cultures. Experience the manic vibrancy of cities, the serene landscapes of rice paddy fields, lush deltas, towering mountains and sublime beaches. Feel humbled and in awe of the historic vista of ancient temples and breathtaking world heritage sites, such as Angkor Wat.
And let's also not forget the food! Buzzing markets, some uniquely afloat, and a plethora of sights, sounds and tastes to enjoy in each country and indeed, each region, await you. Throughout, you'll be welcomed by friendly and curious locals, keen to chat and cheer you on as you cycle by. Biking these spectacular countries in one seamless trip really is one bucket list cycle tour not to be missed!
More Related Tours: